Current House Standings:
851                            740                        713
As we wrap up the first quarter of points, there are pictures to share and points to record.
Canned Food Drive
Fides was awarded Admin Points for Emily Goddard organizing the collection for Cooperative Christian Ministries (5pts)
Fides came in 1st place in the canned food collection (30pts)
Audacia came in 2nd place (20pts)
Sapientia cam in 3rd place (10pts)
Attendance at CCS sporting events – Volleyball, Cross Country, and Soccer – for the 1st quarter have also been added to the point totals.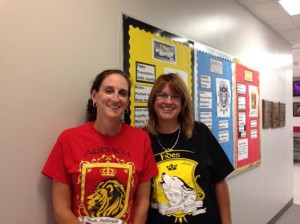 House Advisors showing their SPIRIT!
Congratulations to…
Ashley Nault for winning the girls race at the WPAC conference championship!! (12pts)
Dawson Hardie for coming in 3rd place at the WPAC conference championship!! (4pts)
Sam Hale for significantly improving your time in cross country! (3pts)
House Audacia for over 75% wearing your shirt on Oct. 3rd (15pts)
For all three houses having members mentioned in the CCS E-news as well as in the Administrative Highlights