Before we all go on Thanksgiving break, an update on the points accumulated thus far is in order.
Nov. 10th – Sapientia's prefect, Ashley N, organized a very successful "Comfy Day" to raise money for the Prom in the spring!  (Sapientia – 5pt for leadership, initiative, and follow through)
Nov. 16th – Congratulations to all the athletes in our House System that were honored and recognized at the Fall Sports Banquet!
Middle School Soccer:
Sapientia – 3pts – Jordan D. – Warrior Award
Cross Country HS:
Sapientia – 3pts – Ashley N – MVP Award
Audacia – 3pts – Bryson R – Most Improved Award
Cross Country MS girls:
Fides – 3pts – Katie D – MVP Award
Volleyball:
Audacia – 3pts – Emma S – Warrior Award
Audacia – 3pts – Sydney H – Most Improved Award
Audacia – 3pts – Kady K. – All Conference Player
Nov. 17th – The first Chick-fil-a spirit night of the Fall Semester was a big success.  Audacia's advisor, Mrs. Bingham, was all business as she battled the cow in a serious game of arm wrestling.  No reports on who won, but she helped Audacia secure some House points by coming and showing her CCS spirit! (Audacia 2pts, Fides 8pts, Sapientia 4pts)
Congratulations Spelling Bee Winners!  The following 7th and 8th graders will represent their classes in our school-wide spelling bee on December 9th.
7th grade: Ryan G (Sapientia 5pts) and Luke H (Sapientia 5pts)
8th grade: Sydney C (Sapientia 5pts) and Sydney H (Audacia 5pts)
And since they were mentioned in the CCS E-news news they get additional 2pts each for their House!
Prior to the House Meetings on Nov. 18th the House Dean Team performed a surprise challenge for the houses to see who read their emails and followed directions the quickest in the first ever Email Test.  Surprisingly, just when you think the students don't read their emails, all three Houses performed well.
Fides had 19 members respond taking 1st place (15pts)
Audacia and Sapientia tied for 2nd with each having 17 members respond. (10pts each)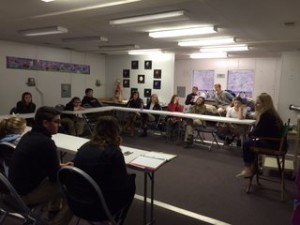 Audacia's prefect, Kirby T, leading her portion of the House meeting.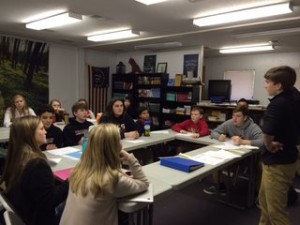 Fides' captain, Daniel H, encouraging his house members.
At the end of the day, all three Houses came together to surprise and celebrate Mr. Morton on his birthday! We are all so grateful that he joined the CCS family this year!