For the first House Meetings of the 3rd Quarter, the Houses reflected on their 1st semester performance as well as brainstormed on some "Winter Slump" activities.
Reviewing the Covenant Cup standings to date, the Houses realized that they are all tied, and so it is still anyone's game to reach the prize.
 
Audacia
Fides
Sapientia
1st Qtr
2
1
3
2nd Qtr
1
3
2
Fall Games
3
2
1
3rd Qtr
0
0
0
4th Qtr
0
0
0
Spring Games
0
0
0
Final Total for Covenant Cup
6
6
6
For the last 20 minutes of the meeting, the Houses participated in the Marshmallow Challenge.  http://marshmallowchallenge.com/Welcome.html
Each House was given 20 pieces of uncooked spaghetti,1 yard of string, 1 yard of tape, and 1 marshmallow.  The challenge was to build the tallest free standing structure measured from table top to the top of the marshmallow using only the materials provided.  The Houses split into guy and girl teams, so that the boys in each House competed against each other and the girls in each House competed against each other.
Unable to see what the other Houses were creating, the teams each brainstormed to create unique and creative structures.
Results
1st Place – Fides Girls – 24″ (15pts)  and Audacia Guys – 23 1/2″ (15pts)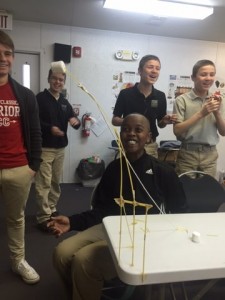 2nd place – Sapientia Girls – 20 3/4″ (10pts) and Fides Guys – 22″ (10pts)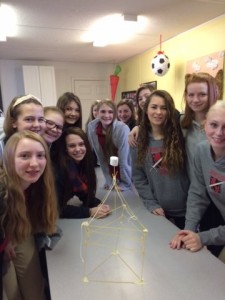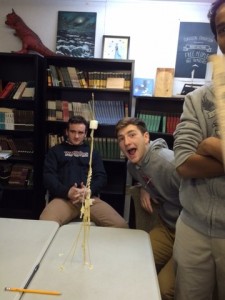 3rd place – Audacia Girls – 19″ (5pts) and Sapientia Guys – 0″ (5pts) (their tower collapsed before it could be measured)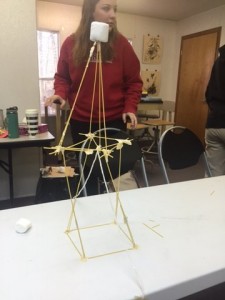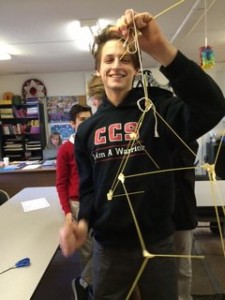 This activity was also used to challenge the Captain and Prefect leaders in each House to observe their House members to see who took charge, had great ideas, participated, collaborated well, or just observed the task.
Homecoming Dance attendance points
Audacia 32pts, Fides 36pts, Sapientia 24pts
Homecoming Basketball Game attendance points
Audacia 24pts, Fides 36pts, Sapientia 26pts