The month of April at CCS has been filled with campaigning, interviews, and elections.  Below is a sampling of campaign posters by candidates running for Student Government President and VP.  Our students are very creative!
Election Day!
All the President and VP candidates gave a speech to the 7th-12th graders as well as the Upper School faculty and staff.  Then the ballots were handed out.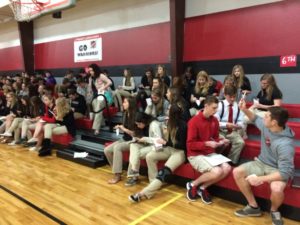 After all ballots were counted, Becca Reese, the outgoing SG-VP, announced that Mason Cregger was elected Vice-President for the 2016-17 school year.  She then presented him with the SG gavel.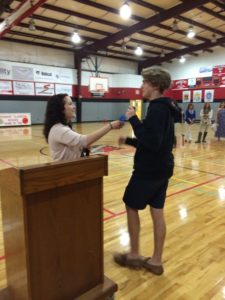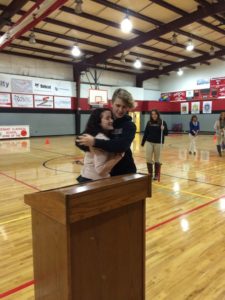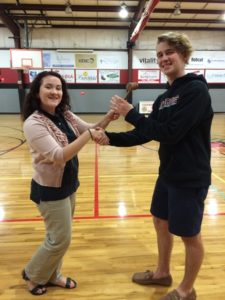 Then Kady Kuhn, the outgoing SG president, announced that Evan Prince was elected President for the 2016-17 school year.  She asked him to come forward and "knighted" him with the SG sword.  The sword is special because it is signed by the previous SG presidents.  Evan continues the Prince presidential legacy.  Both his older sister and brother were also SG Presidents their senior year.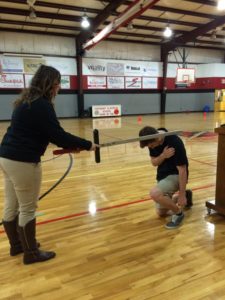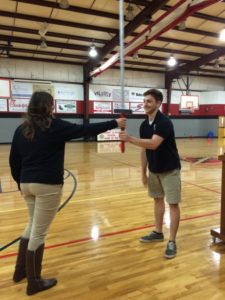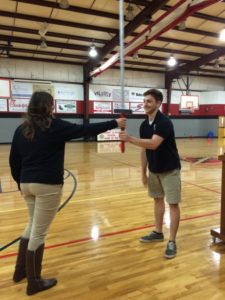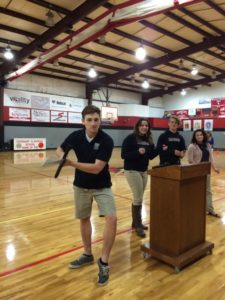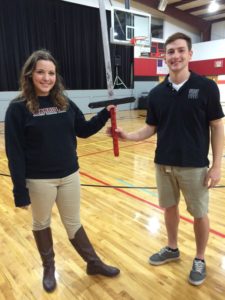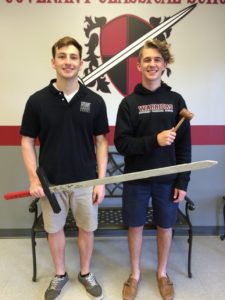 We are all excited to have these two young men lead the student body of CCS next year.  They will be overseeing a great team of leaders.
Congratulations to ALL!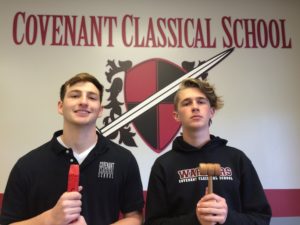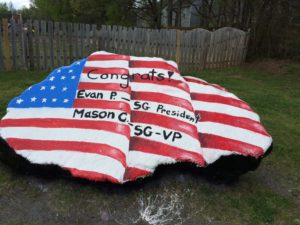 President – Evan Prince
VP – Mason Cregger
Secretary/Treasurer – Chloe Gantz
Social Prefect – Chandler Lawing
Spirit Prefect – Laura Sneed
12th grade rep – Nick Deane
11th grade rep – Chloe Gantz
10th grade rep – Bryson Rose
9th grade rep – Tyler Hicks
8th grade rep – Ryan Gasparrini
7th grade reps – Sam Holman and Reagan Sicchitano
Since all three of the SG Presidential speeches were so good, I decided to post all three for anyone that is interested.  Please forgive the sound quality.  The VP speeches, which were equally good, and so if they become available, they will be posted as well.
Evan Prince –
Nick Deane –
Daniel Haycox –
The Student Government has also decided to use some of their profits from painting the school rock to support groups and individuals across the globe through the Kiva organization.  Kiva is a non-profit organization with a mission to connect people through lending to alleviate poverty. Leveraging the internet and a worldwide network of microfinance institutions, Kiva lets individuals lend as little as $25 to help create opportunity around the world. Learn more about how it works.  SG has decided to lend to a group of women in Haiti and a fisherman in the Philippines.  Information about each is below.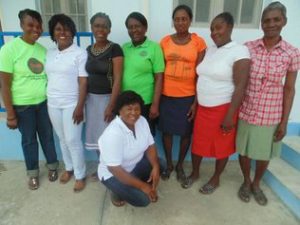 Marilia created a rural association in 1998 in Haiti. Marilia's association specializes in food processing. She sells peanut butter, jelly and jam, among other typical products, in all large supermarkets in Haiti. Through her profit she is able to offer breakfast for students in 51 rural schools.
But this year, Marilia is facing a new problem. The drought that hit Haiti diminished her peanut supplies. She must have more funds to store peanuts in the winter harvest to be able to process them for supermarkets. With the financial help from SG, Marilia will create at least 10 jobs for women who will handpick quality peanut and/or work in the processing. Marilia (coordinator) is in front in the picture.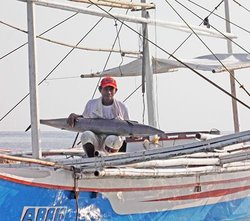 Rodrigo works hard to support his family. He is married and has a fishing business in the Philippines. He requested a loan through Kiva to purchase additional fishing nets and other fishing supplies. Rodrigo has been in this business for ten years now. In the future, Rodrigo would like to save enough money so he could afford to send his children to college.