Meet your Student Government and House Leaders for 2016-17!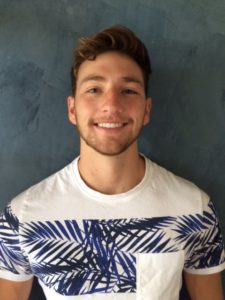 Evan Prince – SG President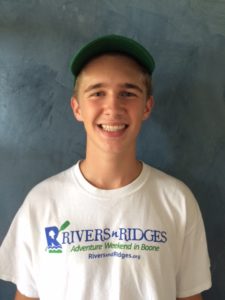 Mason Cregger – SG Vice President
Laura Sneed – SG Spirit Prefect, Emily Goddard – SG Community Service Prefect, and Chandler Lawing – SG Social Prefect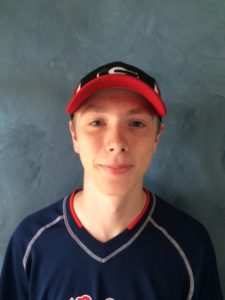 Nick Deane – 12th Grade Representative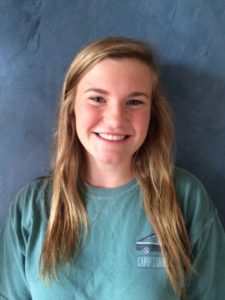 Chloe Gantz – 11th Grade Representative and Sec/Treasurer
Bryson Rose & Emma Stapleton – 10th Grade Representatives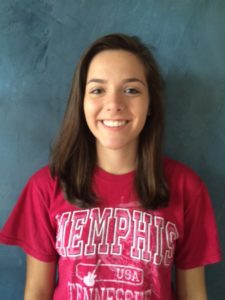 Tyler Hicks – 9th Grade Representative
Ryan Gasparrini & Sydney Hicks – 8th Grade Representatives
Sam Holman & Reagan Sicchintano – 7th Grade Representatives
---
Audacia Leadership:
House Captain – Kirby Thigpen
Prefects – Braeden Gann & Sara Beth Jewell
Fides Leadership:
House Captain – Daniel  Haycox
Prefects – Weston Cregger & Chandler Lawing
Sapientia Leadership:
House Captain – Anna Johnson
Prefects – Nick Deane & Erin Davis
---
Committed to training up tomorrow's leaders, CCS hosted an all day student leadership retreat last Saturday at the Gann's beautiful home.
The day started with a human scavenger hunt in order to help the new and younger members get to know the others quickly.  The students also filled out a self evaluation on their perception of how well they lead.  Each leader was then asked to introduce themselves, their role, and if elected one promise they made or if interviewed/selected one goal they hope to accomplish in the coming school year.  In addition, they were each asked to name a leader and talk about qualities that makes them either a good or bad leader.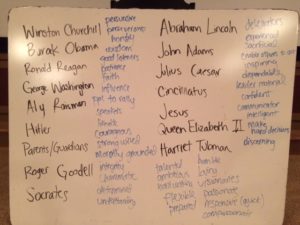 The students then listened to a short story from a great book on leadership called Extreme Ownership written by Jocko Willink and Lief Babin (two former US Navy SEALs).  The book lays out the framework of leadership from a positon of complete and total ownership of who you are and how you affect every aspect of your team. If you have a chance, ask one of the leaders to tell you about SEAL Team 2 and SEAL Team 6.  And ask them is there such thing as a bad team?
From there the students explored concepts from another leadership book entitled Be the First Believer by Ed Deutschlander, noting that every single one of us is a leader because leaders INFLUENCE!  The students took a quiz that analyzed whether they tended focus more on tasks or relationships as a leader.  Then they played a little "game" that resulted in them revealing to their peers their leadership temperament.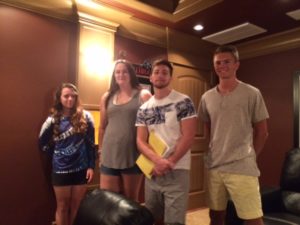 To the left – Evan, Bryson, Laura, and Sam are representing the "Driver" temperament – those that see themselves as forceful, adventurous, demanding, daring, decisive, self-assured, and competitive.  That leadership temperament is usually good at initiating new ideas, getting results, making decisions, solving problems, and taking authority.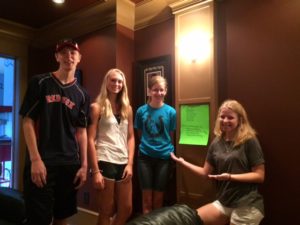 To the right – Nick, Erin, Reagan, and Kirby are representing the "Analytical" temperament – those that see themselves as systematic, diplomatic, conscientious, conventional, analytical, sensitive, and accurate.  That leadership temperament is usually good at following directions, doing critical thinking, diplomacy, and completing assignments accurately and with excellence.                                        
To the left – Anna, Daniel, Tyler, and Sydney are representing the "Amiable" temperament – those that see themselves as patient, loyal, stable, team-oriented, calm, deliberate, and passive.  That leadership temperament is typically good at understanding and listening to others, working with new challenges, concentrating on tasks.
And last but not least…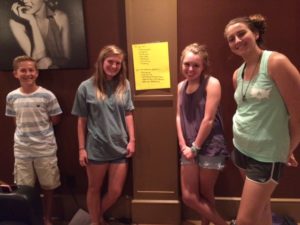 Ryan, Chloe, Chandler, and Emma chose the "Expressive" temperament – those that see themselves as enthusiastic, outgoing, emotional, sociable, generous, convincing, and trusting.  That leadership style is typically good at motivating, entertaining, and interacting with others. They can generate enthusiasm and offer assistance where needed.
Each activity the leaders participated in was designed to give them tools/information to be a better leader at CCS and beyond.  They were further challenged to watch their "A's and E's" (attitude and effort) and to remember that as leaders they are the CEO of their area.  CEO standing for Chief Evangelist Officer, Chief Enthusiasm Officer, Chief Executive Optimist, Chief Energizing Officer, Chief Empowerment Officer, and Cultural Executive Officer.  They reflected on whether they were a "thermostat" or a "thermometer" – merely reflecting what's going on or establishing the tone, the culture, the expectations.  Understanding the Law of Limited Performance, which states that one will rise to the level of expectations set forth by one's leader, is key to good leadership; therefore, a leader gets what he/she exemplifies and tolerates.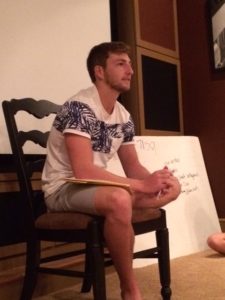 The last part of the day consisted of Evan leading the SG members in brainstorming events for the fall while the House leaders met to create an induction ceremony for new members to be performed at Warrior Camp.
I believe everyone left feeling excited about the coming school year!
Let's go WARRIORS!!