Fall is Here!
Crisp air, colorful leaves, comfy sweaters, and powder puff football!!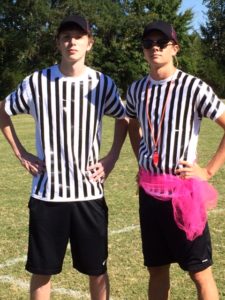 Our refs were ready.  Definitely tuff "enuff" for powder puff.
Team Pink and Team Purple had excellent coaches, Evan and Mason respectively.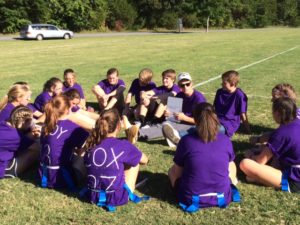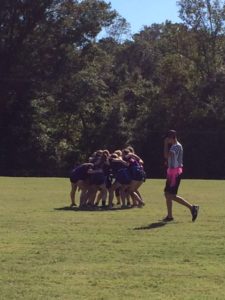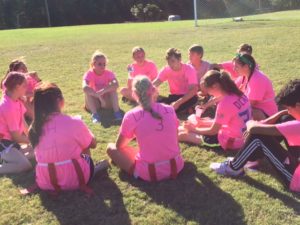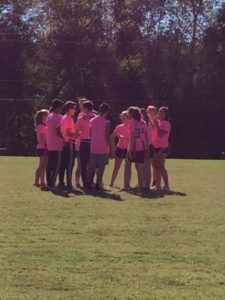 And the "cheerleaders" were full of spirit!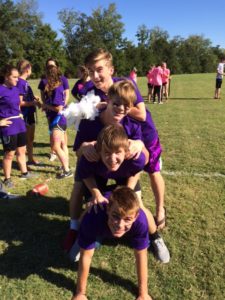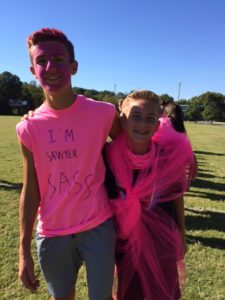 Plays were made.  The stands were filled with fans…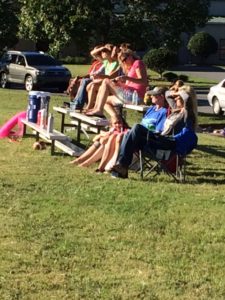 In the end, Team Purple pulled out a win!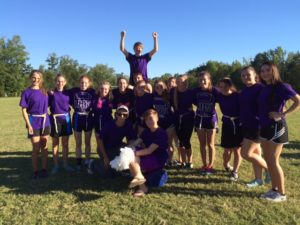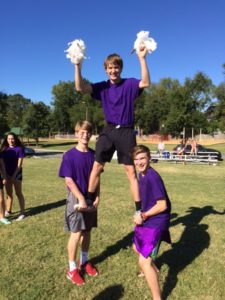 Spirit Week – School spirit was in full display with creative spirit wear worn each day!
Each day of Spirit Week, Mrs. Prince and Mrs. Dearing selected students for the Spirit Court.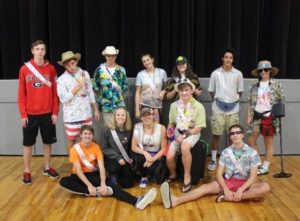 The Spirit Court winners –  Nick, Evan, Bryson, Emma, Sydney, Ben, Tyler, Chase, Kirby, Emily, Daniel, and Cameron – were then awarded the privilege of representing the Upper School in a game of dodgeball against the teachers during the Pep Rally.
Warrior Man Scavenger Hunt –
Throughout the week, the Houses participated in a "warrior" man scavenger hunt for points.  The warriors were hidden in the common areas of the school.
Some warriors were very camouflaged and never found all week, like the one above that was hiding in Mrs. Sneed's wreath on her door!
Hunt #1 (Mon-Wed) – 1st Place: Fides, 2nd Place: Sapientia, 3rd Place: Audacia
Hunt #2 (Thurs-Fri) – 1st Place: Sapientia, 2nd Place: Fides, 3rd Place: Audacia
House Meeting Spirit Competition –
The Houses each held a meeting during Spirit Week and were given a School Spirit Challenge.  They had 20 minutes to show their school spirit by decorating the white board of one of their House advisors.  Mrs. Prince then had the hard task of judging each.
1st Place went to Audacia – 40pts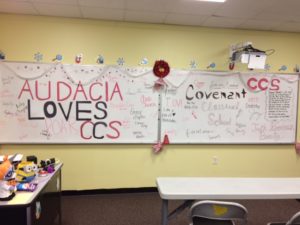 But it was a tie for 2nd Place…
Audacia further showed their House and School Spirit by decorating the school rock!  Well done…using your motto with school colors!  20pts!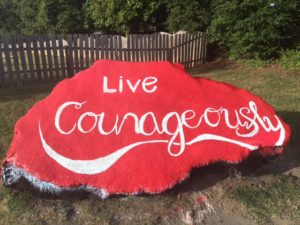 The Houses know how to get the word out about Spirit events – like the Chick-fil-a Spirit Night.  Their Instagram images continue to be so creative!  Love them!
The old saying is right…"Time flies when you are having fun!"  AND 1st quarter at CCS has been so much fun!  As soon as the 1st quarter grades are in, we will announce which House has won the quarter. 
And remember to always…
Pursue Wisdom!  Live Courageously! and Keep the Faith!
(Sometimes while viewing the blog posts via a smart phone or email, the images and spacing may be off or skewed.  To see the post as it is intended it is best to view it at http://covenantclassicalhouseblog.org/ )