The CCS Upper School students have been busy this fall.  Listed below are some of the fun activities that have been going on and the points they earned.
Anatomy and Physiology Club – Sapientia Prefect, Erin Davis, wrote a proposal and received approval for an Anatomy and Physiology club to meet twice a week during lunch in Mrs. Quillen's classroom. Erin's initiative and leadership is exemplary.  By taking on the additional role of facilitating the meetings, Erin is not only providing a fun and educational extracurricular experience for upper school students but also providing a means for the Houses to receive academic house points by attending the meetings.  Well Done!  Mtgs to date – Audacia 8pts, Fides 5pts, Sapientia 15pts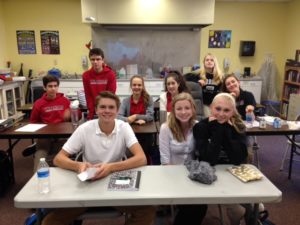 Canned Food Drive – SG' Community Service Prefect, Emily Goddard, organized a canned food drive just in time for the Thanksgiving break.  She furthered the incentive to give generously by making it a House competition.  All three Houses contributed generously to the cause but 1st place went to Audacia, 2nd place to Fides, and 3rd place to Sapientia.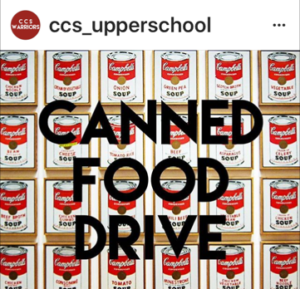 Chick-Fil-A Spirit Night – Remember to submit any pictures from Spirit Nights for points!  I know more of you attend than submit texts so why not help out your House with more points as you support CCS!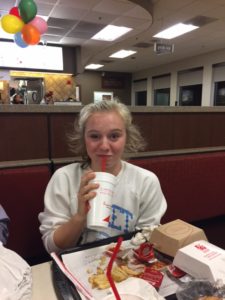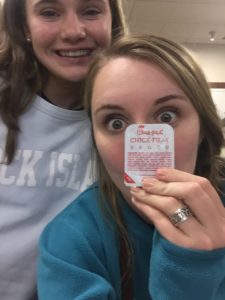 Upper School Dance – SG knows how to throw a party!  Social Prefect, Chandler Lawing, aided by her decoration team, celebrated FALL with a fun costume dance.  Points for members attending – Audacia 34pts, Fides 36pts, Sapientia 36pts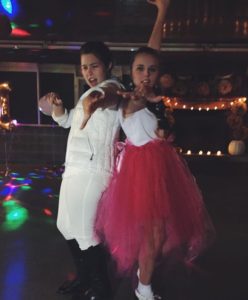 Fides Service Day – In an effort to bless the school and Mr. Mario Hardnick, Fides members organized a Service Day on a Friday after school.  Ten members came out and served.  Community Service points for Fides – 30pts.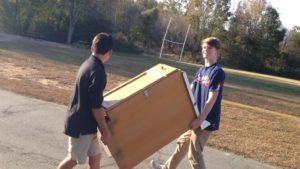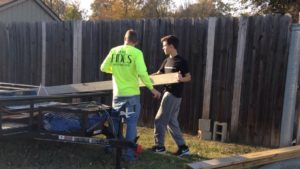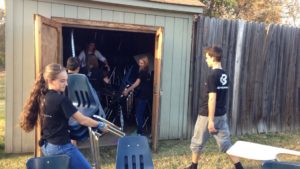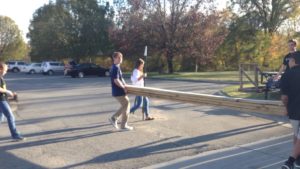 Fides Thankful Tree – As a visual reminder of all that we have to be thankful for at CCS, House Fides distributed leaves on the lockers and to the teachers asking them to write down items for which they are thankful.  School Spirit points – 10pts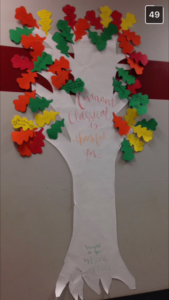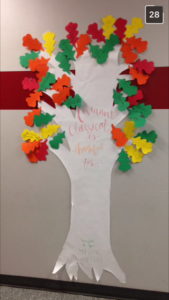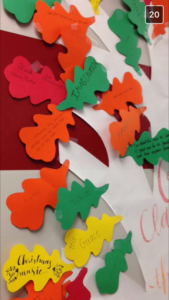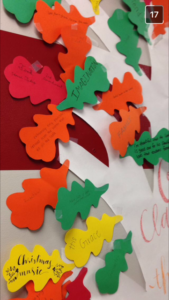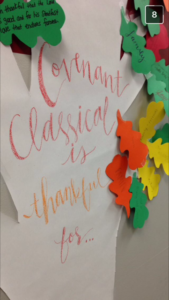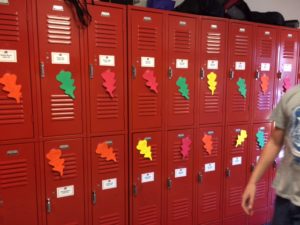 Pumpkin Seeds in Lounge – To bless their peers with the taste of Fall, Audacia members roasted the pumpkin seeds that they had cleaned out of the pumpkins used in the carving contest and put them in the student lounge for a nutritious snack! School spirit points – 5pts

Santa Scramble – The Rose brothers represented CCS well in the 2016 Santa Scramble.  Parker finished 1st in his age group and Bryson placed 4th in his age group. Well done!  More points for Audacia!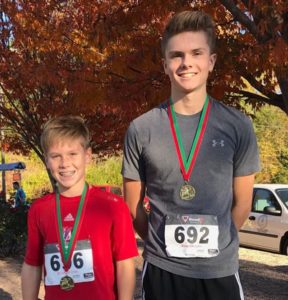 Warrior Basketball Game – Come out and support Warrior Middle School and Varsity Basketball!  The games are so fun and your attendance just builds more school spirit! Students that sign the sheet at the ticket table or send in a text showing they are at the game receive House points for attending.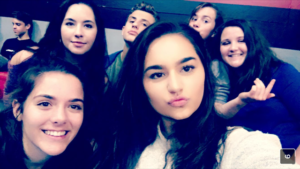 NOTE – Parents and students can earn House points for their student by serving in the concessions.  Please email Mrs. Haycox for information on how to sign up!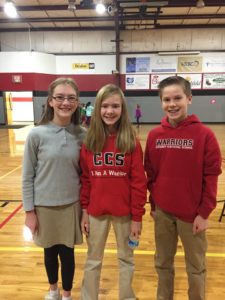 Congratulations to our CCS Scripps Spelling Bee winners!
1st Place: Parker Rose (House Audacia)
2nd Place: Hannah Gromis (grammar school)
3rd Place: Ava Justice (grammar school)
All three will advance to the county bee next month. Way to go, spellers!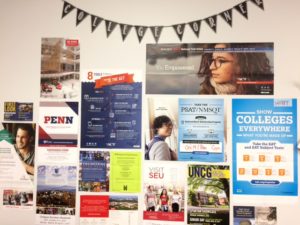 Colleges Applied to (5pts each application) – Both in the 1st and 2nd quarter, points have been awarded to seniors for each college application they submit.  We want them to reach high and cast a large net as they make plans for their future.  So far in this quarter –  Audacia 30pts, Fides 30pts, Sapientia 20pts
Email Test – To foster good communication between House members and leaders, the House Team created an email test and competition.  As much as teenagers are on their phones and laptops, one would think that checking their email would come natural, but amazingly it is a skill that must be encouraged!  HA!  The house that had the most members respond to the email from Mrs. Haycox in 48hrs won.  Results –
1st Place – Fides, 2nd place Sapientia, 3rd Place Audacia.
Current Point Standings: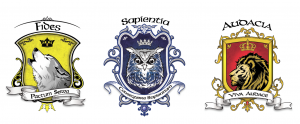 612pts            521pts             558pts
(Sometimes while viewing the blog posts via a smart phone or email, the images and spacing may be off or skewed.  To see the post as it is intended it is best to view it at http://covenantclassicalhouseblog.org/ )