The CCS Awards Ceremony is the time when both the 4th quarter winner as well as the Covenant Cup winner are announced.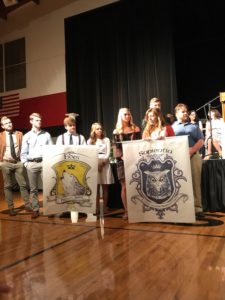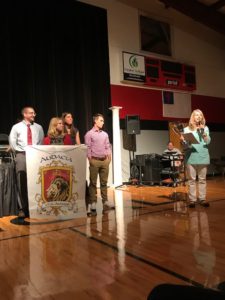 4th Quarter was not the "nail biter" in closeness of points as earlier quarters had been because one house just turned up the heat in all categories in hopes of winning the quarter.  The final result was House Sapientia clinched the win for 4th quarter with 1437 points. Congratulations to them for working so hard when it might have been bit tempting to coast the rest of the year.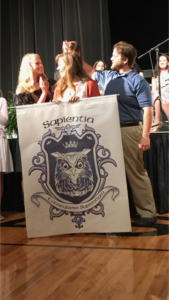 House Audacia placed 2nd with 1387 points
House Fides placed 3rd with 1254 points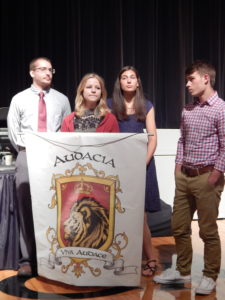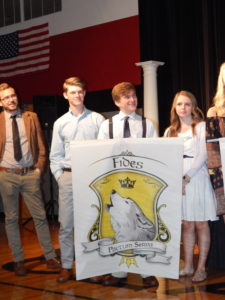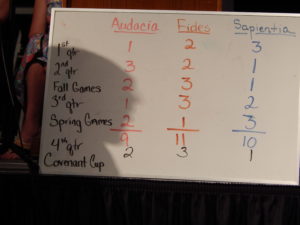 A visual aid was needed because  the CCS Covenant Cup winner is determined a bit differently than the quarter winners.  It is not a sum of points accumulated over each quarter that determines the winner, but rather the 1st, 2nd, or 3rd placement that each House has in the quarters as well as the placement in the Fall and Spring House Games.  It is not only important to have the most 1st place wins, but equally important is to not have too many 3rd place finishes. So the winner is determined by the House with the most 1st place wins and fewer 2nd and 3rd place positions.
Audacia
Fides
Sapientia
1st Qtr
1
2
3
2nd Qtr
3
2
1
Fall Games
2
3
1
3rd Qtr
1
3
2
4th Qtr
2
3
1
Spring Games
2
1
3
Final Total for Covenant Cup
11
14
11
You could hear the crowd stirring and see the Captains, Prefects, and Advisors turning their heads to look at the board to add up the points and see that two Houses – Audacia and Sapientia – were tied!!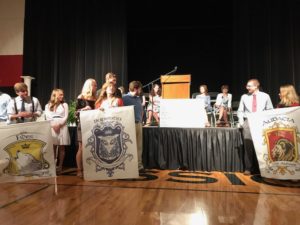 The tie breaker is determined by the total sum of CORE VALUE points a House as earned over all 4 quarters.  Core Value points are submitted by teachers and staff as they witness House members demonstrating values like KINDNESS, FAITHFULNESS, REVERENCE,  SELF-CONTROL, PATIENCE, HONESTY, SERVICE, LEADERSHIP, INITIATIVE, EXCELLENCE, CHIVALRY, HUMILITY, among others.  
So after adding the yearly total of Core Values for Audacia and Sapientia … the 2016-17 Covenant Cup Winner is…HOUSE AUDACIA!
Total Audacia Core Values =1315
Total Sapientia Core Values =1210
CONGRATULATIONS HOUSE AUDACIA!!!!  Their crest will be framed and hung in the lobby and their flag will be hung on the flagpole under the American flag for all of the 2017-18 school year until the next Covenant Cup winner is determined.
The House System is 3 years old.  Excitingly, each House has now had a Covenant Cup victory!  I believe it is going to be quite fun next school year watching the Houses work hard to be the 1st House with their name on the trophy twice!