What a joy it was to watch the Class of 2017 present their senior theses!!! I know the audience learned so much.  It was evident that all of the seniors knew their material and research well and were able to confidently, eloquently, and humbly defend their theses to the distinguished panel of upper school faculty (Mr. Morton, Mr. Wilmoth, Mr. Leland) and administration/mentors (Mrs. Dearing and Mrs. Crouch).  The culmination of their classical high school education as displayed through this rigorous rhetorical exercise was a beautiful moment to behold.
Well Done SENIORS!  We are all so proud of your maturity, dedication, and hard work.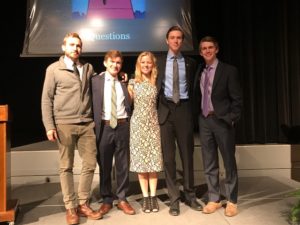 Kirby Thigpen – The benefits of having a relationship with horses through the art of dressage.
Mason Cregger – The relationship between the American cinema and the rise of the 19th century nihilism.
Nick Deane – Adjusting the Standard: an exploration of the connection between truth and money, and how our money today reflects a devaluation of objective truth.
Daniel Haycox – Wisdom in the world of dreams: a critique of dream interpretation methods.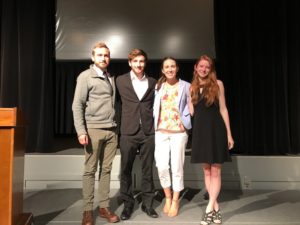 Evan Prince – How Marxism has molded our modern culture and its effect on morality.
Emily Goddard – How the overuse of social media has shaped Generation Z.
McKenna Bandy – The effects of cultural exports on undeveloped countries.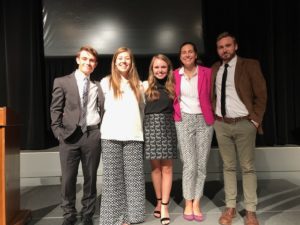 Chandler Lawing – The importance of beauty in the life of a Christian.
Anna Johnson – The overmedication of Modern America
Sara Beth Jewell – How reconstruction in the South after the Civil War was a failure and the effects it has on America today.
Braeden Gann – The demise of modern masculinity.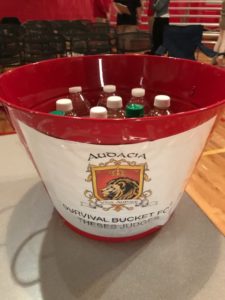 Thank you House Audacia for your thoughtful gift of a "survival bucket" of water bottles for the panelists each senior thesis day.  15pts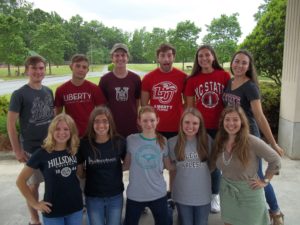 College Commitment Day was May 1st!
Our seniors celebrated their big decision by sporting a shirt announcing their future college.
McKenna Bandy – John Brown University
Mason Cregger – College of Charleston
Nicholas Deane – Boston University
Braeden Gann – Liberty University
Emily Goddard – NC State
Daniel Haycox – Lipscomb University (Honors College)
Sara Beth Jewell – NC State
Anna Johnson – Central Piedmont Community College
Chandler Lawing – College of Charleston (Honors College)
Ashley Nault – Palm Beach Atlantic University
Evan Prince – Liberty University
Kirby Thigpen – Hillsdale College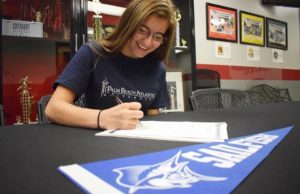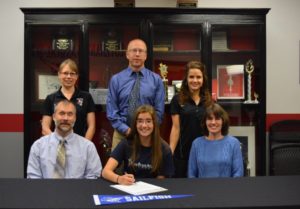 Above, senior Ashley Nault signed her National Letter of Intent to run cross country and track with Palm Beach Atlantic University in West Palm Beach, Florida. Ashley has run cross country all four years at Covenant Classical School, being coached by Charity Leland and Cindy Gann. She also trains with the North Charlotte Running Academy under Coach Jim Bennett. Ashley's success on the course was complemented by her recognition as Most Valuable Player all four years as well as being chosen as Captain her junior and senior years. Ashley plans to study Cross Cultural Studies and Spanish while attending Palm Beach Atlantic University. Congratulations, Ashley!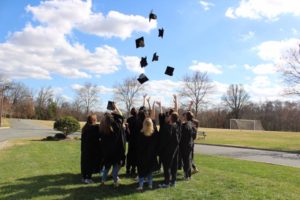 Please join us this Saturday, May 20th, at 2pm to watch and celebrate with us as these amazing young people graduate!  CCS Board Chairman, Brylan Gann, will give the commencement charge.