(On some smart phones and email servers, some of the pictures may be turned sideways due to formatting issues.  If you find that to be the case, please go to the CCS blog site to see the posting as it is intended.  www.covenantclassicalhouseblog.org)
Warrior Camp 2016 was a big success!!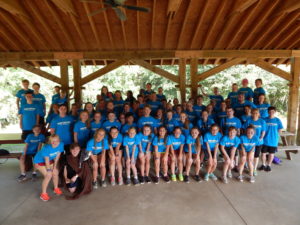 The CCS Upper School spent 2 days and 1 night at Camp Canaan to start off the year with fun, fellowship, and fantastic talks by 3 of our esteemed Uppers School teachers, Mr. Morton, Mr. Wilmoth, and Mr. Leland.  Attendance Points – Audacia 42pts, Fides 40pts, Sapientia 42pts
House Induction Ceremonies kicked off the day.  Audacia's House Captain, Kirby Thigpen, welcomed in their new "lion cubs" by reading a fable on the origin of House Audacia that was recently written by Kirby, Braeden, and Sara Beth. Then the entire House circled around the new recruits with a lion chant roar of "Audacia, Audacia."  Then members and new members were marked with red face paint.
Sapientia was up next.  Sapientia House Advisor, Mr. Morton, read their House fable about their origin.  Then each new "owlette" was asked to take an oath and marked with a blue "S".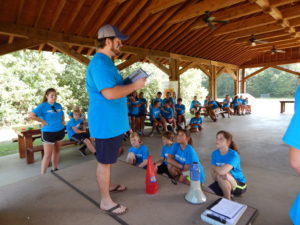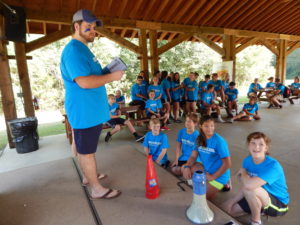 Last year's Covenant Cup winner, House Fides, stepped up next to welcome in their new "wolf pups." House Captain, Daniel Haycox, dressed in the "ancient" pelts of past Captains, read from the Fides Commonplace Book of Prints the fable of Fides' origin.  Afterward the new wolf pups each inked their paw print into the book. If you would like to read the fables, click on the House Description link in the black bar at the top or if viewing in email format use this link.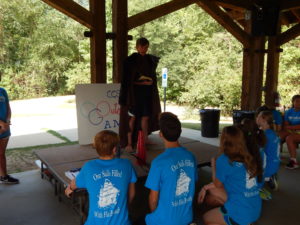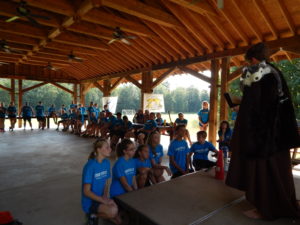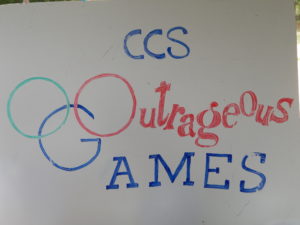 With the induction ceremonies concluded, the CCS games began! First, in the spirit of the Olympics (somewhat), each House circled up and participated in a speed Hula Hoop race in which members held hands to create a "chain" so that the hula hoop moved around the circle by the members climbing through it.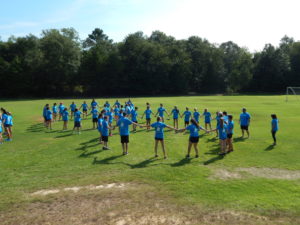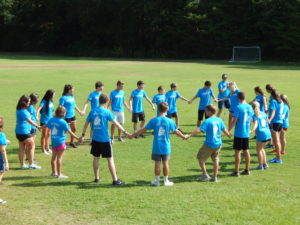 Audacia 1st place – 30pts, Fides 2nd place – 20pts, Sapientia 3rd place – 10pts
Instead of the Decathlon, the Houses participated in a "Dog-Athlon" in honor of House Fides.  The students raced in swimming gear in a 100 yard dash, tagging team mates in a "soap box derby" race (shown below).  Then other members were released in a 3×3 noodle relay that culminated in the rest of the house tossing water balloons towards a bucket that needed the waterballoons burst into it to reach a marked line.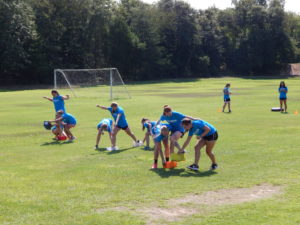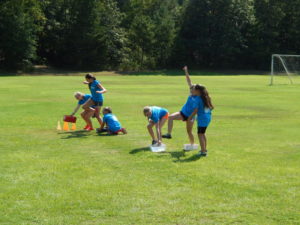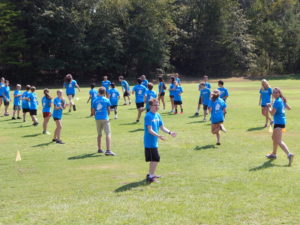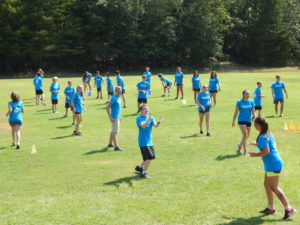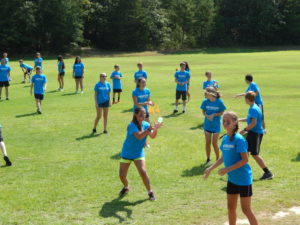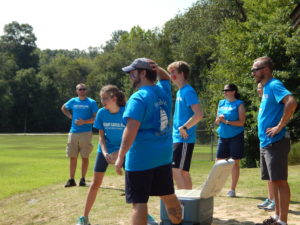 Sapientia 1st place – 30pts, Audacia 2nd place – 20pts, Fides 3rd place – 10pts
In honor of House Audacia, the Houses played a "musical chairs" sort of game with the music being the story of The Cat in the Hat read to them and the chairs being paper plates.  Students were either Sally, Mother, or the Fish and they had to switch seats whenever their character was read, always leaving one person in the middle. With all the wrestling and struggling for a seat, it was more appropriately dubbed "Wild Big Cat in the Hat," and unfortunately I have no pictures to post for your enjoyment.  Fides 1st place – 30pts, and Audacia and Sapientia tied for 2nd place – 20pts each.
In honor of House Sapientia, the Houses played a hilarious game of "Owl on a Perch."  Due to time limitations, we were unable to determine a winner, but it definitely won in the amount of laughter it produced.
After lunch the staff at Camp Canaan conducted a House competition called the "Island Challenge."  It consisted of 25+ challenges that the Houses could choose from and receive points for completing.  After a set amount of time, the Houses could cash in their points for materials to construct an airplane or glider.
After 30 minutes of building their glider, the Houses selected members to describe the inspiration behind their structure and features of their aircraft.  And a course was set up to measure distance flown and time in the air.
Each house had two gliders.  Up first… House Fides…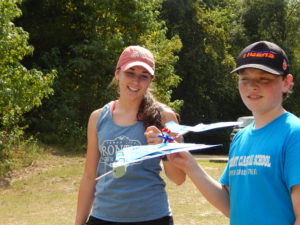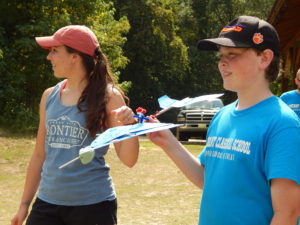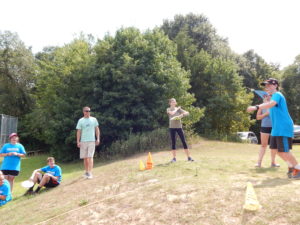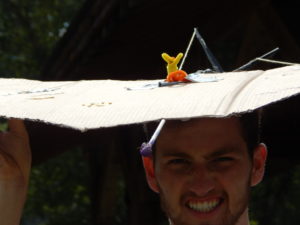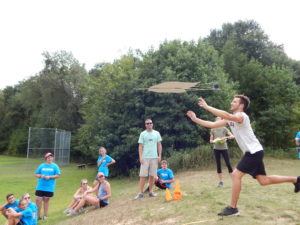 Then House Audacia…
Then Sapientia… one of their gliders flew the furthest.
I wish I could remember the names and descriptions for each glider, but suffice it to say that each team did a great "sell" job on their creation and used a lot of creativity in their construction.  Island Challenge winner – Sapientia 30pts!  Congratulations!
Fides came in 2nd place, 20pts, and Audacia in 3rd – 10pts.
After the challenge, the students listened to a talk by Mr. Morton who highlighted a song by Phil Wickham called "Sailing on a Ship" that was used as this year's camp theme. Then dinner was served before the 7th/8th graders left to return home.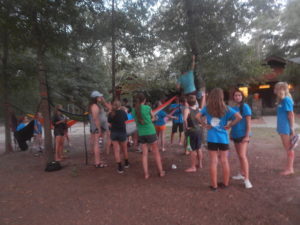 The 9th-12th had some free time followed by a debrief time within their Houses, campfire with s'mores, and pick up games of disc golf, gaga ball, and capture the flag with glow sticks.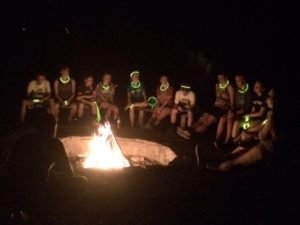 Though my pictures end here, the next day was equally fun.  The morning started with the 7th/8th graders returning after breakfast.  All were treated to a time of worship that has been described as a really powerful and meaningful time.  Then the students participated in a fun game of archery tag.  They were also blessed by two more fabulous talks – this time by Mr. Wilmoth and Mr. Leland.
The reviews of the camp have been really positive, and all would agree that it was the perfect start to what will no doubt be a special year.  May we all listen for that voice on the wind, calling us further in. May our sails be filled with His breath…as we sail on a ship that's bound for life!