The 4th Annual Fall House Games Competition wrapped up just in time for the Thanksgiving Break. As in previous years, the competition was fierce but filled with silly games, laughter, and good sportsmanship.
For each game, the House leaders had to strategically determine which members should participate based on the skills needed or the willingness of the members to do some of the crazier activities. Each game had the 1st place winner receive 1 point, 2nd place winner receive 2pts, and 3rd place winner receive 3pts. The "Ultimate Winner of the Fall House Games" was the House with the lowest number of points.
Throughout the afternoon the points were close between the three Houses, but at the end of the day, last year's Fall House Game winner, House Sapientia, was announced the winner again…narrowly winning by 1 point!
Congratulations Sapientia! Well Done!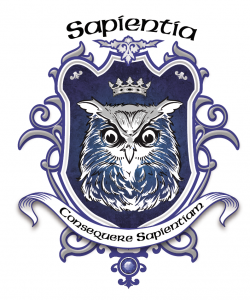 Final Scores:
Sapientia – 18 points
Fides –  19 points
Audacia – 22 points
Below are some of the pictures from the fun afternoon!
House Chant Challenge – 1st Sapientia, 2nd (tie) Fides and Audacia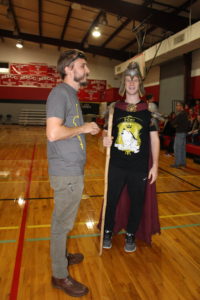 In years past, House Audacia has dominated in the House Chant competition because, since the beginning of the House System, they have had the strongest chant.  But this year, House Fides showed up in their newly designed armor ready to intimidate the competition.  And House Sapientia (finally) wrote a chant and incorporated some choreography with flying "birds."  The judges – Mrs. Prince and Mrs. Kuhn – had a tough decision, but it was the flying birds that sealed the deal and gave Sapientia the win.
Balloon Stomp – This was the Captain's choice game – always a favorite with the Houses.  1st Fides, 2nd Sapientia, 3rd Audacia
Fastest and Farthest – This game reminded the Houses that it is always good to define one's terms.  Fastest = the fastest cup stacker.  Farthest = the paper airplane that could travel the farthest.
Cup Stack – 1st Fides, 2nd Audacia, 3rd Sapientia
Airplane – 1st Fides, 2nd Audacia, 3rd Sapientia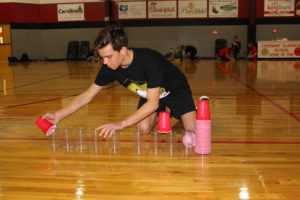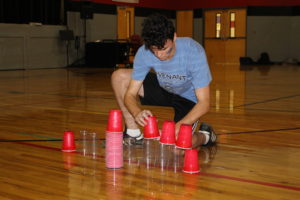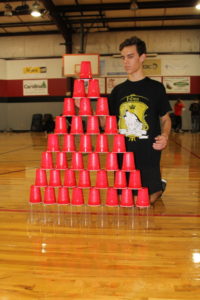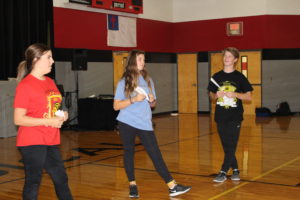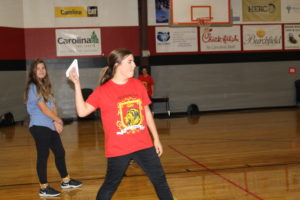 Oven Mitt Kiss Relay – 1st Sapientia, 2nd Fides, 3rd Audacia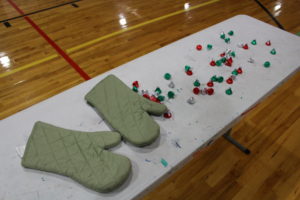 The House members had to race down and unwrap a Hershey's kiss while wearing oven mitts and then eat the kiss before returning to tag the next member.
The Houses were surprised to have 2 CCS alumni return to help out in this relay game!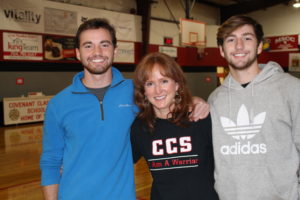 5 Kernels of Corn blanket relay – 1st Sapientia, 2nd Fides, 3rd Audacia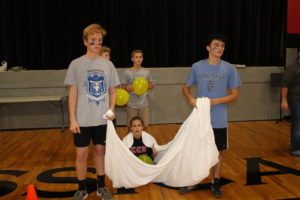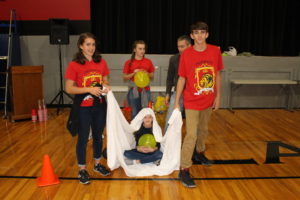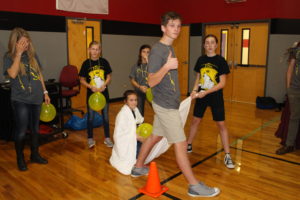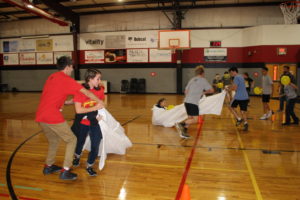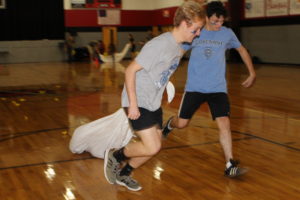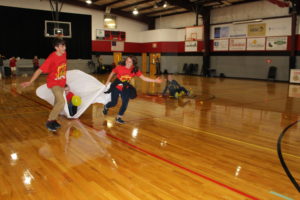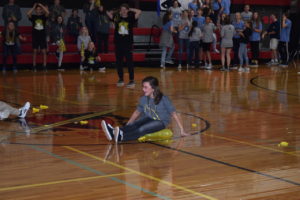 Surprise Food Relay – This game called for the bravest of eaters.  Under the cups were Dixie cups filled with all sorts of "interesting" food options – Spam, prunes, marshmallows, hard-boiled egg, candy corn, cherries, pork rinds, black olives, Vienna sausages, hot Taki's, dill pickles, and dehydrated cherry tomatoes.
1st Sapientia, 2nd Audacia, 3rd Fides
Basketball Relay – 1st Fides, 2nd Audacia, 3rd Sapientia
Spirit Banner Competition – 1st Audacia 30pts, 2nd Sapientia 20pts, 3rd Fides 10pts
All in all, the day was a "hoot'in, howl'in, and growl'in" good time!